Collections
Shop for artwork based on themed collections. Each image may be purchased as a canvas print, framed print, metal print, and more! Every purchase comes with a 30-day money-back guarantee.
About John Brown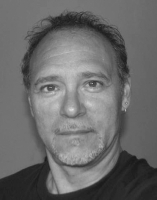 About John Brown (a.k.a.Jon-William Brown)

I have been creating images ever since I was old enough to hold a pencil. Right from the very beginning, I was always experimenting with mixed media that included pastels, watercolors, oils, graphic printing, photography, writing, music, etc. If there was an avenue for expression, I wanted to use it. One of my earliest frustrations as a fine artist was the inability for me to produce what my imagination could conjure up in a timely and economic manner. I wanted to create. I wanted to do it good. I wanted to do it quickly without sacrificing quality. Then I wanted to reproduce it. I never found solice in the belief that artist have to starve or find another way of making a living. To me, there had to be a way that an artist could produce himself effectively, be cost efficient, and do it successfully.


In order to do this I needed to find a way in which I could reproduce my prints without having to invest the hundreds of dollars it would cost to create master four color offset plates for each and every design. In 1976 I had already invested into a complete color darkroom with the help of a high school friend, and began experimenting with photography and hand painted photos. I then began using a process called 'xerography' (color xerox copying the photos) and hand painting the surfaces with watercolor paints. Because of the powdered pigments used in this process, the watercolor paints would blend nicely on the surface of the paper. I would then re-photograph the image onto a slide and reproduce the images in my darkroom using the 'cibachrome' process.

In 1978, after a back-packing trip across America, I decided to apply to Massachusetts College of Art. Since I skipped my 'portfolio' high school preparation classes, I had no idea how to effectively submit a portfolio for college acceptance. Since I was into everything from film making to fine art printing, and had already developed a non-conformist style using innovative, yet non-traditional techniques, my portfolio was more like a suitcase, rather than your traditional one page, 12 slides of 'still-life drawings'. Oh how drab. Needless to say I received my portfolio back unopened and rejected. I then set forth to develop and market my work on my own through any and every avenue available to me and have never stopped since. This image entitled 'Harbor" (above left), was first created in 1978. A few years ago I re-scanned it and now reproduce it digitally, some thirty years after it was first created.


Due to an extensive early career as a photographic technician in Boston, Massachusetts during the 1980's and 90's, I witnessed the digital revolution transform the photographic industry. In 1995 I purchased my first computer and began to learn everything I could about digital imaging and writing computer language. A year later I published my first virtual gallery web site, SunSpirit Gallery.Com and created several collections while perfecting the photo/digital/art technique utilizing the latest materials and printing applications. As an artist by nature I saw the potential for incorporating the subtle 'impressionistic' quality of a watercolor painting with that of the detailed photographic image. By using digital imaging programs, like that of photoshop, I was able to effectively achieve this vision. Contributing to this artistic approach with the new technology during this time was the development of the Iris printer by Iris Graphics in 1987 in Bedford, Massachusetts. An early developer of the technology in the fine art field was Graham Nash (Crosby, Stills, Nash, and Young) . The sale of his collection in 1990 by Sotheby's became an important milestone in establishing the market for fine-art photography. Proceeds of the sale funded charitable causes and provide the means for Nash to co-found Nash Editions, a digital fine-arts printmaking firm that used some of the most advanced scanning and printing equipment in early days. The company continues to operate today. This fine art process became to be known as the Giclee print. In 1996, before the 'enhanced fine art' papers where even developed by Epson or the likes, I was feeding a plethora of regular cold press or a variety of watercolor papers through my desktop printer to obtain the spray effect of ink-paper interactions. Meanwhile, one of Graham Nash's first apprentices in Boston was being groomed. Jonathan Singer became my first 'giclee printer' and Singer Graphics also still exist today as one of Boston's premier fine art printers. That year I introduced my first non-offset plate, print on demand, greeting card lines at the Boston Expo, something that was virtually unknown and unheard of at the time. The field of fine art has since been transformed.

In 2002 I began to apply these techniques to the Newburyport Cityscape collection. Now, some thirty years after the first experimentation's, the technique of combining creative digital imaging, painting, and detailed photography, used in conjunction with this printing process that produces subtle variations due to the interaction of specially developed ink and fine art watercolor paper, is now what I refer to as 'Digital Impressionism'. What is most important to me is not the media, techniques, or methods used,..but the VISION. Its the same vision that exists for me today with using a computer, as it did thirty years ago without it. But now its different. The digital revolution has changed the rules. The ability now exists for an artist to produce their own designs AND quality reproductions at a fraction of the cost used in conventional methods no matter what media is used. For me, technology is used for creative purposes. The computer is as unlimited as the imagination itself. Combined with the internet and web site development, an artist, for the first time in history, whether or not they are a painter, a writer, a musician or whatever, has the capability to produce themselves in all phases of production, including MARKETING. This is a very significant step towards dismissing the 'starving artist' mentality adopted by traditional society, and paving the way for any creative individual to empower themselves at making a living at what they do best. Create.